The Nunavik Arctic Survival Training Centre (NASTC) is a 5 Star SDI/TDI/ERDI Training Facility offering a fully equipped dive shop with everything for the beginner to the most advanced technical diver. We have a complete selection of the best extreme cold water gear available on the market.
Dive courses are available from Open Water to Advanced, Sub Ice, Drysuit and Full Face Mask Diver. Local guides and dive masters are available to inform you on the best local dive sites or to lead your dive.
NASTC has certified public safety and rescue divers available to support your specific dive goals or expeditions. We can also fully support recreational, technical and film industry-related rebreather diving. We provide oxygen, air or normoxic trimix diluant and sorb for all manufactured rebreathers. We offer full face masks and diver-to-diver to surface untethered communications.
The waters around Puvirnituq offer a variety of diving options, including Freshwater Drift, Wall Diving and Salt Water Wall Diving.
The views from the dive boats include breathtaking landscapes of carved glacial mountains and valleys, unchanged in the past thousand years. Wildlife abounds beneath the water, including Beluga whales, Ringed and Harp seals, eels and Arctic char. The abundant bottom cover is magnificent and vibrant with hordes of sea urchins, starfish and shellfish. Night dives are magical under the clear open skies over Hudson Bay.
Contact NASTC to make your northern dive expedition a true adventure.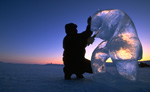 Photo Galleries
Weather forecast