Nunavik Arctic Survival Training Center (NASTC) is the leading provider of Arctic survival training and Arctic adventure travel in Canada. Through pre-packaged and customized survival training courses, expert Inuit instructors teach critical survival skills to employees of government agencies, nonprofit organizations, and private corporations working in extreme Arctic conditions. NASTC also offers guided adventure travel and eco-tourism packages for adventurers and travelers from around the world. Led by our experienced Inuit instructors, NASTC travel packages offer visitors a truly authentic Arctic experience.
NASTC was established in 2000 by founding members Air Inuit, the Corporation of the Northern Village of Puvirnituq, and the Puvirnituq Co-op. Since its founding, NASTC has experienced consistent growth and has developed a strong reputation throughout Nunavik. Our client list is expanding and includes some of the most prominent companies and organizations in Nunavik and the rest of Quebec. We also serve an increasing number of domestic and international travelers attracted to NASTC's unique travel packages that combine Arctic adventures with the opportunity to learn traditional Inuit skills in Arctic survival.
NASTC is proudly Inuit-owned and managed.
Our board of directors include:
Paulusie Novalinga
Aisara Kenuajuak
Peter Ittukalak
Adamie Sivuarapik
Juani Uaituq
Jakusi Ittukalak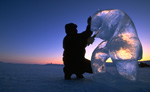 Photo Galleries
Weather forecast