Nunavik Arctic Survival Training Center (NASTC) is the leading provider of survival training and adventure travel in Arctic Canada.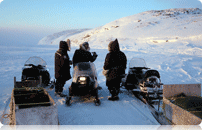 Through pre-packaged and customized survival training courses, expert Inuit instructors teach critical survival skills to employees of government agencies, nonprofit organizations, and private corporations working in extreme Arctic conditions. NASTC also offers guided adventure travel and eco-tourism packages for adventurers and travelers from around the world. Led by our experienced Inuit instructors, NASTC travel packages offer visitors a truly authentic Arctic experience.
Adventure travel
Thrilling expeditions by dogsled, snowmachine, kayak, or canoe. Scenic tours and sightseeing. Appreciation of the Inuit people and culture. Truly authentic Arctic adventures.
Training

Professional courses led by expert Inuit instructors that teach critical skills for survival on land and sea in all Arctic conditions.

Special projects

Arctic expedition consulting. Business development consulting. Corporate events.